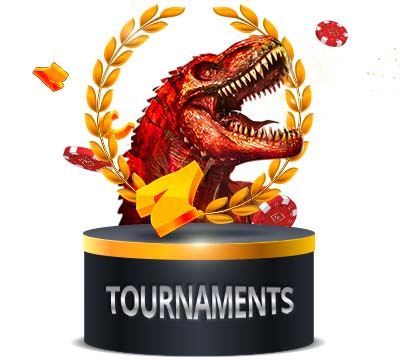 The success and popularity of online slots has inspired both developers and casinos to hold regular slot tournaments. After all, people love poker tournaments, so why not tournaments on slots? While you can't influence the outcome since slots are not games of skill, there's still a thrill knowing that you can top a leaderboard and get huge rewards on top of those you win on slots.
How Slot Tournaments Work
Slot tournaments are a great way to have some fun. There's a bunch of them in Golden Euro casino, allowing players to race for the top and see who's the luckiest among them all. Of course, they're all free to join, and their variety in terms of time limit, re-buys, freerolls, and other factors make them as enjoyable as it gets.
Types of Online Slot Tournaments
Slot tournaments in Golden Euro casino come in different shapes and sizes. We have it all from freerolls, small stack tournaments, one shots, and high roller tournaments with higher buy-ins.
There's a different type of slot tournament available for players from all walks of life, so we're sure you'll find yours. Slot tournaments are a great way to boost your bankroll and play exciting games, while also having loads of fun with a group of friends.
What Do You Get for Your Buy in?
The buy in is usually a small fee players pay to participate in slot tournaments. On average, these fees are under €20 or so and they also contribute to the prize pool. For your buy in, you get a guaranteed spot in the tournament and a chance to win one of the prizes.
Always ensure to read the buy in terms so you don't miss the amount and tournament both.
How do Add-Ons Work in Slot Tournaments?
Add-ons and re-buys in slot tournaments help players stay in them for longer. Think of them as boosts in video games that help you defeat your opponents and move up the leaderboard. With add-ons, you're getting extra time and credits to play after the original resources have elapsed. Of course, it will cost you a pretty penny, since no boosts come for free.
What's a Re-buy?
If your time in the tournament is up and you still haven't seen your name on the table, re-buys can help. You can get a re-buy in Golden Euro casino that will allow you to enter the tournament again and try harder this time.
How to Sign Up for a Slot Tournament?
Signing up for a slot tournament varies from one tournament to another. In most cases, you'll need to opt-in to the tournament in order to start playing. Some tournaments are free, others will require a small buy-in.
This is precisely the reason why you should always read the rules in order to learn how to participate in Golden Euro's slots tournaments.
How To Win A Slot Tournament
There's no special formula we can share that'll help you win. Slots are a game of chance so you'll need Lady Luck beside you if you want to win. Of course, you should follow some slot tips in order to minimise your losses and optimise profits. These include playing smartly and starting with small bets that may eventually turn to big wins. With them, you'll be able to risk some money and hopefully win bigger.
Are There Any Rules in Slots Tournaments?
Absolutely. Slot tournaments have rules you must follow, so before opting in, make sure to read them and that you understand them correctly.